So, another year of Bluebonnet has come and gone. Thankfully, I've mostly recovered now, on Tuesday, from the epic amount of fun it was! Although we didn't place with the brews we entered (as figured), we did get great feedback in most cases (as usual) on our scoresheets. I've got some adjusting to do, but nothing major to the recipes to get them where they need to be for style. The good scored good, the not-so scored not-so. I do feel better about my own critique of my own brews, though, as they did line up fairly well with the judges' opinions. As this was only my second Bluebonnet to have entered and barely my second full year of brewing, I still feel I've got acres to grow with my setup and skills, and I look forward to kicking some ass in the future.
For those of you that missed this event, the speaker this year was Tim Alexander of Deschutes Brewing Co. He is a very pleasant guy to visit with, and I enjoyed his opening speech on Friday night.
The Craft Tasting was a great time this year, I thought. Meeting and visiting with the
Great Divide
dude was fun. Yeti, I love you. Can't wait to try the Belgian Yeti, once you get your labels approved. Your Colette, although not quite as dry as I would have preferred a Farmhouse to be, was a tasty brew for sure. Estrella Damm Inedit was intriguing; interesting concept with a decent taste.
Hopus
, I will drink you again, as well as
Coopers Best Extra Stout
. The rest of you were all tasty in your own right, but I can't say that my taste buds were coherently interpreting you at any given moment...
Club Room Crawl...blur. Fun as hell.
Aftercrawl? Yup.
Saturday morning Technical Talk? Painful in my skull, but enjoyed hearing Tim Alexander of Deschutes Brewing speak again.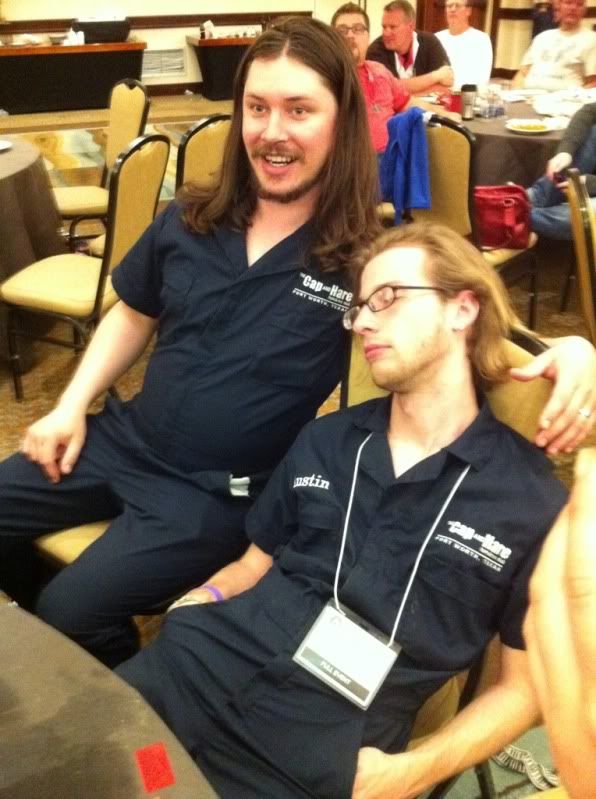 Awards Ceremony: I understand that it was the 25th Anniversary for the Bluebonnet Brew-off, but you were way long. Had whatever held us up on getting underway, whether one of the pubcrawl busses or whatever, not held us up, you could have possibly held our attention a bit longer. It was exhausting. Sorry. I was happy it was over when it did finally end, and that's not a good thing, in my opinion.
All in all, it was a great event with great friends and a great group of fellow beer enthusiasts and homebrewers. The random porn star and hooker in attendance were just added entertainment, but not in *that* way. With all of that rambled, I'll say "Congratulations" to the winners, "Good luck in the future" to my fellow non-winners, and "See y'all next year" to everyone who came out for a hell of a good time!
The full list of winners located here at the official Bluebonnet Brew-off site.